What's new?
Keep an eye on our news feed, where we'll publish everything that's happening in the world of Salts Healthcare.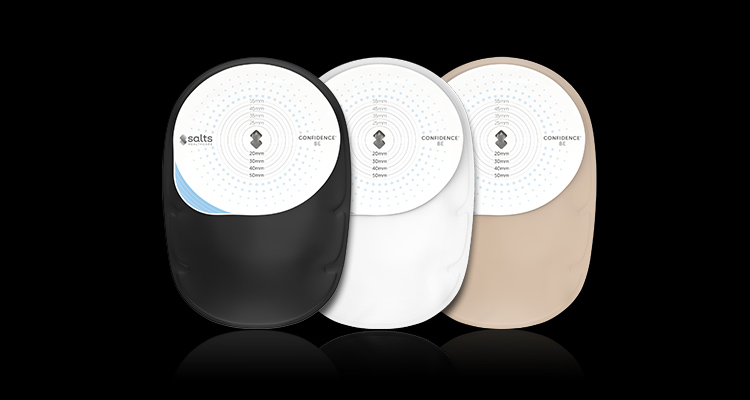 Introducing Confidence BE® – For all you want to be.
Salts Healthcare is delighted to announce the launch of Confidence BE®, available on prescription from 1st November. It's our most exciting product range yet. Our designers listened to what people wanted and created a brand-new stoma bag with a range of clever features to help you feel comfortable in your own skin, confident in your abilities and free to live life.
You can find out more about Confidence BE® closed bags and order samples here.
You can find out more about Confidence BE® drainable bags and order samples here.
Offering customers' choice for the first time!
In both closed and drainable, Confidence BE® is available in a choice of 3 colours – black, white and stone – allowing you the freedom to match your stoma bag to your underwear, swimwear and clothing. It features a sleek new fabric which is highly water-repellent, meaning it dries really quickly and will not cause perspiration. The clever anti-sag stitching helps to keep the shape, even when full.
Nurses love the product!

The pre-launch took place at the Association of Stoma Care Nurses Annual Conference which was held in Glasgow on 1st – 3rd October 2017. The response was overwhelming and the feedback since then has been great, with so many stoma care nurses excited to try this product on their patients! Here are just a handful of comments we've received from nurses who've seen Confidence BE® so far:
"Absolutely bowled over by the bags especially the black ones" Stoma Care Nurse
"Loved the look and luxury feel of the pouches; the drainable looks like a closed bag" Stoma Care Nurse
"Feel luxurious and looks 'posh'. Very impressed with the filter not needing any stickers and continuing to work even when wet" Stoma Care Nurse
"Really like the feel and look of the bag and it is great to offer patients a choice in colour as so many have been asking for this for a long time now" Stoma Care Nurse
"What I saw was the best thing in 15 years ever, so very clever" Stoma Care Nurse

Say goodbye to ballooning, pancaking and odour!
Confidence BE® also features an intelligent new Active Chamber filter system, which has virtually eliminated ballooning and pancaking in our assessments. Our customers were delighted with the results: allowing them to sleep through the night, not having to empty air from the bag, and to forget it was there. The new filter itself removes 83% more odour than previous filters and it's protected on both sides by a hydrophobic material, meaning filter cover stickers to shower or swim are a thing of the past!
Say hello to a drainable bag with the smaller, neat profile of a closed bag!
The drainable bag features a brand new improved outlet which is easier to open, empty, clean and secure. It simply folds 4 times and secures with our new super-strong hook & loop closure material. The outlet automatically tucks away beneath the cover material: making it look just like a closed bag!
These are just a few of the exciting new features that Confidence BE® has to offer.
You can find out more about Confidence BE® closed bags and order samples here.
You can find out more about Confidence BE® drainable bags and order samples here.