How to prevent ballooning
If you are experiencing ballooning you could try implementing the following tips, which may help:
If you are using a filter cover, try removing it. The next thing is to consider your fluid and dietary intake:
Spicy foods, some vegetables (onions, cabbage, peas, and beans) and fizzy drinks have been known to increase wind, so try to avoid these
Avoid drinking with your meal as this can cause you to swallow excess air.
Eating regular meals will reduce the build-up of wind.
Do not chew chewing gum and avoid smoking, as both these activities increase the amount of air we ingest.
Please note: If you continue to have ballooning issues with your stoma bag, you should contact your Stoma Care Nurse for further advice and support.
Top tips to help reduce stoma bag ballooning
Below you will be able find a video to help you reduce ballooning. These top tips to help reduce ballooning have been provided by Michaela Parker. Michaela is a Clinical Nurse Specialist at Salts Healthcare.
Watch the video here: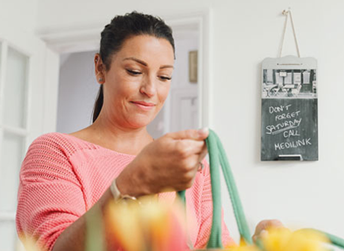 Register with the Medilink® Home Delivery Service
Get your stoma bags and additional products delivered directly to your home with Medilink®, our stoma prescription dispensing and home delivery service.
Sign up to our monthly e-Newsletter!
Subscribe NOW to our newsletter and be kept up-to-date with all things Salts Healthcare.