What is pancaking?
Pancaking occurs if the internal layers of the stoma bag stick together causing a vacuum which prevents the contents from dropping to the bottom. The stool remains at the top of the stoma bag which can potentially block the filter. The bag can also be forced off the body.
Please note: Pancaking can happen with a colostomy or occasionally with an ileostomy.
How to prevent pancaking
If you experience pancaking, then you should try and implement the following tips, which may help:
Place some air into the bag by blowing into the bag prior to application, then apply the filter cover, this will ensure some of the air remains within the bag, then once the stoma has functioned try removing the filter cover, this will hopefully encourage the stool to drop to the bottom of the stoma bag.
Some people find it helpful to roll up a small piece of toilet paper or place a cotton wool ball into the bag.
Others find using a drop of oil or liquid soap placed into the hole of the adhesive (ensuring it coats the opposite internal film) can sometimes help the output to slide to the bottom of the stoma bag.
If you are using a drainable bag or a two piece system some individuals living with a stoma find it useful to "de-vac" or "burp" the bag to encourage air into the bag.
Please note: If you continue to have pancaking issues with your stoma bag, you should contact your Stoma Care Nurse for further advice and support.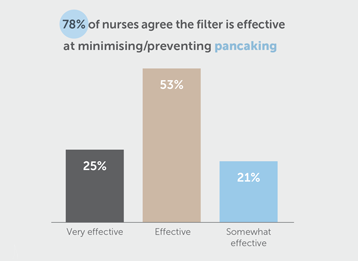 Confidence BE® Soft Convex - Nurse & User Survey 2020
Combined with user feedback, we invited Stoma Care Nurses to share their opinions on the benefits of Confidence BE® Soft Convex. This included 78% of nurses agreeing that the filter is effective at minimising/preventing pancaking
Top tips to help reduce pancaking
Below you will be able find a video to help you reduce pancaking. These top tips to help reduce pancaking have been provided by Michaela Parker. Michaela is a Clinical Nurse Specialist at Salts Healthcare.
Watch the video here: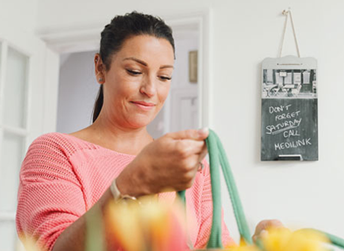 Register with the Medilink® Home Delivery Service
Get your stoma bags and additional products delivered directly to your home with Medilink®, our stoma prescription dispensing and home delivery service.
Sign up to our monthly e-Newsletter!
Subscribe NOW to our newsletter and be kept up-to-date with all things Salts Healthcare.