What's new?
Keep an eye on our news feed, where we'll publish everything that's happening in the world of Salts Healthcare.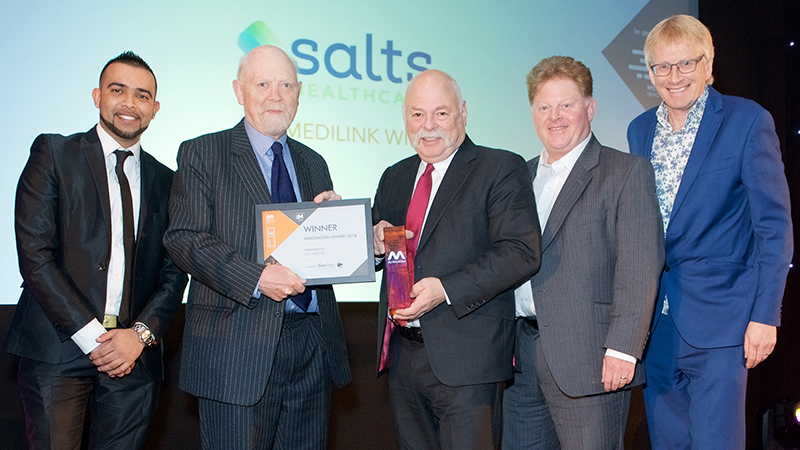 Salts Healthcare wins UK Life Science Award for Innovation
Salts Healthcare has been named one of the most forward-thinking medical and healthcare companies in the UK after winning the National Medilink Award for 'Innovation'. The 300-year-old family-owned Birmingham firm was recognised for the research, design and manufacturer of its latest product; Confidence BE® – a ground-breaking stoma bag with a range of clever features to help people feel comfortable, confident and free to live life to the full.
The Confidence BE® range was launched to medical professionals in October 2017 after the biggest research programme ever completed by the company which has 600 staff and offices throughout the UK and across the globe. The product range was an instant success, receiving excellent reviews from medical professionals and patients alike for its design, innovative use of materials and customer-friendly features. The citation read: 'Awarded for the development of an innovative technology, design or process that has produced a major improvement in business performance or end user benefit'.
Winning companies from the regional awards came together to see if they could win the prestigious prize. Dr Phil Hammond, practising GP, author and broadcaster presented the awards.
Bill Cruise, chair of Medilink UK said: "I offer my congratulations to Salts Healthcare together with all the finalists. It's great to see the celebration of exceptional achievements in the Life Sciences sector and the contribution it makes to society."
Philip Salt, Chief Executive of Salts Healthcare said: "To say we are delighted with this award doesn't come close to how the whole business feels at the moment. This is simply recognition of a huge journey by every single member of every single department in creating a world-class product. We don't just celebrate the product with this award – I want to thank the people behind it; their design and creativity, internal teamwork, customer knowledge and empathy and superb manufacturing skills. Medical professionals love it, patients love it and so too now do our peers."
Salts Healthcare designs and manufactures stoma care devices and associated products and sells them across the globe. With 20 offices, two distribution centres, a manufacturing hub and R&D facility in the UK and distributors across the World the company is currently expanding rapidly having invested heavily in R&D, new products and manufacturing in recent years.