What's new?
Keep an eye on our news feed, where we'll publish everything that's happening in the world of Salts Healthcare.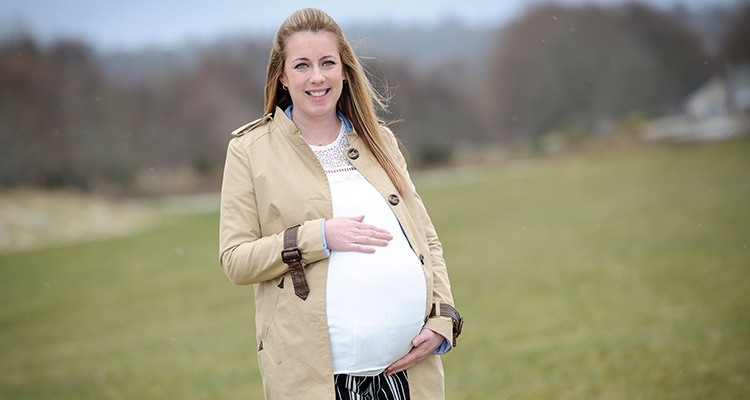 My Confidence BE® Story
Stephanie Cowie – Finding my perfect bag whilst pregnant with twins
With a family of four, soon to be six, pregnant 37-year-old Stephanie was using two types of bags. One because she liked the aesthetics, the other to soothe her sore skin after using the former. She couldn't find the perfect bag that did everything... until now.
Working in administration at a wind farm company in Inverness, and married to plant hire company owner Iain, Stephanie was concerned when she noticed bleeding during her second pregnancy. She feels she was 'easily' diagnosed by doctors with piles because she was expecting. However, after getting more and more poorly and late into the third trimester, after many more visits to doctors, a scope diagnosed some sort of IBD. Unsure exactly what is was, doctors initially treated her with drugs for ulcerative colitis and thankfully she responded to the treatment. Baby Calvin was born, and all was well.
Having been ok, it was eight months after the birth that the symptoms came back but were much worse. No treatment worked, and Steph feared the side affects of taking stronger steroids. After researching the options and considering she wanted a bigger family, she decided an operation was the best route to take. Some what matter of fact she says: "I didn't know much about stomas and ostomy bags. I knew it was something to do with going to the toilet differently. I did lots of research, I was going to find a better way.
The drugs weren't working, my knowledge of the options was good, and I thought let's get rid of the colon, I can live without it. Seriously though, I was very poorly. I was house bound, I struggled looking after Ciara and Calvin and with Iain running his own business, working sometimes unsocial hours, life was tough."
Steph was in and out of hospital, but it was her constant need to dash to the toilet either at school having dropped Ciara off, or having to run home that she remembers the most. She said: "I remember Ciara saying; 'Mummy you are always having to go to the toilet'. No matter where I was - at school, at home, in Tesco. I was bloated, had hot flushes and with our family life being so manic I needed a solution. I thought, what is the point of this existence? I don't want to be like this forever and I certainly wanted to be drug free."
Iain wanted Steph to be well and so after much discussion they agreed surgery was the future. In October 2015 Steph was in theatre for eight hours and recovered relatively well but struggled with blockages. A few months later surgeons performed another exploratory operation and found the small bowel was twisted, probably from the procedure but after that she got better and better. Mentally she was confident and physically she got stronger.
"My friends and family were great – I was very open about my situation and nobody batted an eyelid. I gained confidence from online forums, being able to chat to others with questions, I joined Crohns and Colitis UK and benefitted from the support network around me. Close family and friends made life normal.
"Iain and I were always open with the kids, showing them Mummy's tummy. All I did was to go to the toilet via a bag... Mummy was a little different and Daddy, quite rightly called me special."
Steph likes to research many stoma bags and has tested scores. She isn't scared of trying out new things. She said: "After trying lots I settled down with two brands and alternated between them. I liked the one product due to its aesthetics, but it affected my skin badly. I liked the other, the Salts Confidence® Natural Advance because it soothed my sore skin. It wasn't ideal needing to swap between two different bags but at least I had found a temporary solution."
Steph then noticed via social media the new Salts Confidence BE® range. "I remember saying – three colours, no way... is that a hoax? I thought it looked like an item of clothing, it certainly didn't look like a medical device. But there was no convex version. I kept in contact with the guys at Salts who told me a convex version was under development... I just had to wait."
Steph was in a good place. She was exercising more, had changed her stoma diet and gave herself the goal of running the Loch Ness Marathon in 2018. She said: "I felt great, physically and emotionally strong and it was during the training, shortly after a 10K race in which I raised £1000 for local Colorectal Nurses, that we found out I was pregnant. I kept on running but after the scans showed twins were on their way, I decided to stop."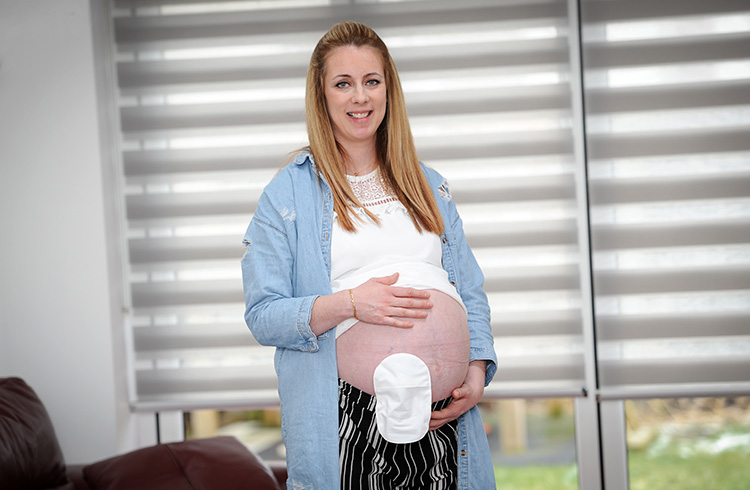 The change of tummy and stoma shape due to the pregnancy also meant Steph didn't need a convex version. She could have the bag she really wanted. "I love Confidence BE®. I immediately felt the difference. It's lighter in weight, it doesn't pull on your skin and I love the different colours. I was really interested in the 'anti-sag' feature given the shape I am at the moment. It is everything I want a bag to be. It's a game-changer, a life-changer.
Confidence BE® has helped me through my pregnancy and it will be a game changer for me in the future. As you would expect, I am anxious, more scared for the babies, but I feel in a good place in part helped by the new bag. As you can imagine I'm classed as a high-risk pregnancy. The hospital is on speed dial and even though I carry extra bags around with me, I feel confident that the bag will always work. And when my body settles down, I don't think I'll have a problem wearing a bikini."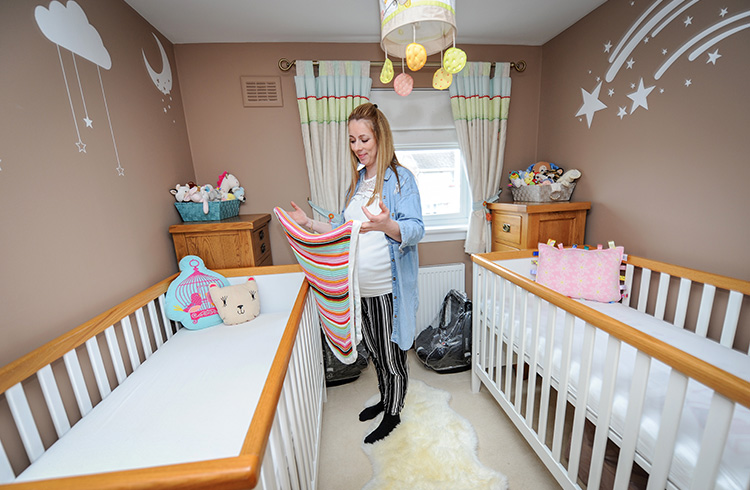 Thinking about the future with a household of six to look forward to, Steph says: "If I sit down and think about it, I answer 'why me, why am I poorly?' It's a bit rubbish yes, the worst thing about it is having to be up in the night at least once to empty a bag but you just have to get on with life. I stopped logging into forums because the stories depressed me. It is what it is and I have two, soon to be four children to look after, I just need to get on with it."
Confidence BE® is going to help me do that. Whether I wear white or black I will feel good and positive. I know it will work, it won't hurt my skin, it is easier to use. It doesn't sag, it looks great, what's more to say. I used to use two different bags, now I only have to wear one. I have found the perfect solution."
FOOT NOTE: Since this interview with Steph in early March, less than a week before the birth, she has given birth to a boy and girl. Mother and the twins, Jaxon and Demi, are doing well. Iain is in good spirits although like Steph, very tired. Ciara (6) and Calvin (3) love having baby Jaxon and Demi to play with.
To find out more about Confidence BE® or to order samples click here.