What's new?
Keep an eye on our news feed, where we'll publish everything that's happening in the world of Salts Healthcare.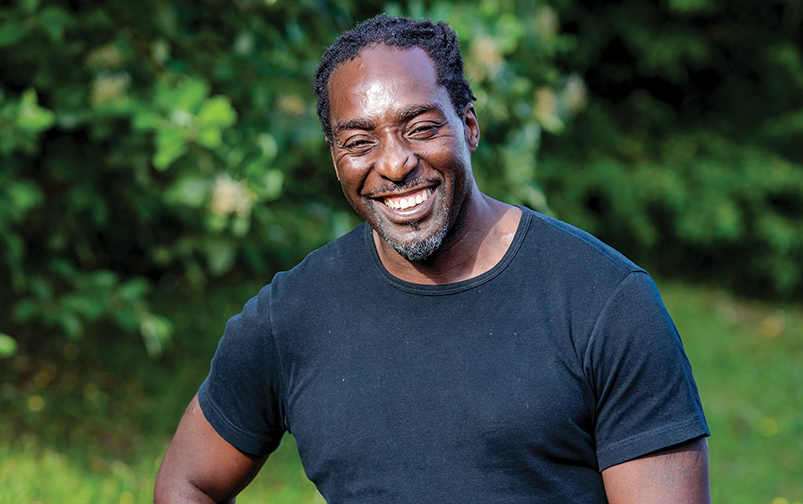 Paul Henry – At last, a bag that makes you feel attractive!
Super-fit construction worker, Paul Henry, was in the prime of his life when Crohn's Disease struck and started a succession of health problems. He didn't want an ostomy to ruin his toned body. Then everything changed when he discovered Confidence BE®…
Paul first knew something was wrong when he was 17 and started having haemorrhoids. For two years he used suppositories, but developed abscesses which were so painful he couldn't sit down. Doctors diagnosed Crohn's Disease and discussed the possibility of a colostomy, which was hard news for Paul to take.
Since he was a child, 50-year-old Paul had been heavily into exercise, taking part in everything from basketball to track and field. The thought of having a stoma was daunting. "I used to work out in the parks with my top off. My body was chiselled. There was no way I was going to do pull-ups in the park with a colostomy bag flapping in the wind", Paul recalls.
Unfortunately, things didn't get better. Paul had problems with incontinence and became scared to eat. "The pain was so bad I couldn't walk. I was told to change my stoma diet to something bland, so I was pouring water onto my cornflakes instead of milk – no pizzas, no spicy food. But it didn't make a lot of difference".
Paul's Crohn's was aggressive and became progressively worse. Until, in 2006, he went to the GP who insisted he went to hospital to discuss his options.
"When I arrived at hospital, I thought I was walking fast – until an old lady with a walking frame overtook me. That's when I realised things were really bad."
After an operation to remove his colon, Paul was happy the pain was over but overwhelmed at the amount of drugs he needed to function. In 2013, the colonoscopy was followed by an ileostomy to remove his large bowel.
Since then, Paul has been almost pain-free and has resumed his beloved exercise regime, cross-country biking with his dog Bullet, doing basketball, callisthenics (gymnastic exercises) and swimming with his kids.
It was while attending a Colostomy UK event, that Paul was introduced to the new Confidence BE® bags and couldn't wait to get his hands on them. "The first thing that won me over was the colour. When I saw the black bags, I couldn't believe it. I'd been ranting and raving about someone making a black or brown bag for me".
Paul likes the bag's special fabric, as it makes exercising more comfortable, and also the effectiveness of the unique Active Chamber Filter design. The filter on Paul's old two-piece product used to fail all the time and he would be forced to stop in the middle of exercising to let the gas out.
"It feels so much more comfortable now, just letting the filter do its job. I always used to wear support belts because I didn't want to see a massive bulge on my side. These bags give me a lot more confidence. The filters are the best I've come across".
The bag's sleek design also makes Paul feel more confident showing it off. "It's like modelling a new pair of underwear, you like what you bought and you want to show it off. It's that type of product where it does look nice. It does look sexy. Like I said, I feel so great with it. I think it suits me".
Paul has always taken an interest in looking good and Confidence BE® helps him feel better about himself. "Now, I look in the mirror and I love my body. I love my body even more when I see the black bag on my side, because it looks very attractive. It's something I could easily wear on the beach without having a belt around me. I'm not trying to hide it".
If you'd like to try Confidence BE® for yourself, order a FREE sample today and let us know how you get on by saying hello@salts.co.uk.