What's new?
Keep an eye on our news feed, where we'll publish everything that's happening in the world of Salts Healthcare.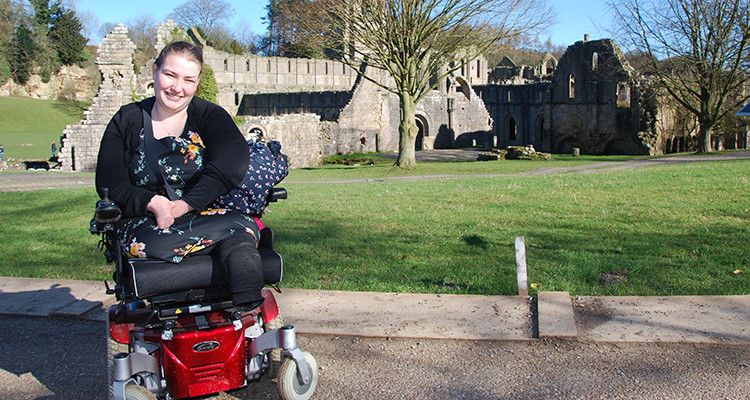 Suzanne's Story
31-year-old Suzanne lives with her loving family in West Yorkshire. They all originate from Norfolk, but moved to the area after a terrible tragedy when she was just 8 months old. She was in a house fire and suffered terrible life-changing burns to her body. Doctors were amazed she survived. Due to the circumstances of the fire, she was adopted. She found a loving family who cared for her and, when she was seven, because the best specialist medical treatment available was in Yorkshire, they moved closer to the hospital.
Fast forward a few years and Suzanne graduated in Business Management, but struggled to find a job as she graduated during the last recession. So she volunteered for many years, to gain much-needed experience. She has, since 2012, worked for the Bradford and Airedale Community Equipment Service. It was back in 2015 that her bladder stopped working properly, causing immense pain. But it was only due to an observant nurse that the problem was found before much greater problems arose.
Suzanne said: "I had really bad pains in my stomach, and diarrhoea. Everyone thought it was a bowel problem but couldn't work out exactly what it was. I was an emergency admission after the pain worsened, but still no diagnosis. Then a nurse noticed my bladder wasn't emptying properly. Indeed, most of the time, I had a completely full bladder – and so the problem was identified.

"I had a temporary catheter fitted, in the hope it would work, but it just wouldn't empty. I then had a suprapubic catheter through my stomach at home, because by this time I couldn't work. I was in constant pain and, in the end, had to have five months off work."
It was now January 2016 and Suzanne developed an infection on the skin where the catheter was fitted. A combination of this and constant pain brought the options on what to do to the fore. Suzanne couldn't stand the pain any more. She said: "I couldn't go to work, I was in pain… I had no life, it was an easy decision to make… I had to have a stoma."
Suzanne had her operation in June 2016 and the pain instantly went away. Indeed, she was back at work eight weeks later.
"It was brilliant. I didn't like being at home, I had lost 18 months of my life and I was desperate for something to work. When it did, it was great."
Suzanne has had some challenges with being an ostomist, though. She needed a bag that she herself could fit and change, and with her Salts Medilink Stoma Care Nurse, Sarah Ashworth, they worked it out. She uses a Salts Convex Urostomy Bag along with a night drainage bag system. Plus, her skin is very, very sensitive and has rejected some solutions. Again, Sarah and Suzanne have worked through it.
After a tricky eighteen months, Suzanne is now back filling her life up with work, studies and volunteering. She is a volunteer and Trustee for the Airedale and Bradford 'Out on a Limb' Amputee Support Group. She is also studying via the Open University for a degree in History. One day, she would love to work in a museum – and she wants to visit Rome to see the ancient ruins.
As we finish our tour of the amazing Fountains Abbey, with its ruins and water gardens, on a windswept bright Yorkshire Spring morning, I ask Suzanne for a parting comment:
"The last eighteen months have been hell, but it's all good now. Life has lots of challenges, you have just got to get on with it."