What's new?
Keep an eye on our news feed, where we'll publish everything that's happening in the world of Salts Healthcare.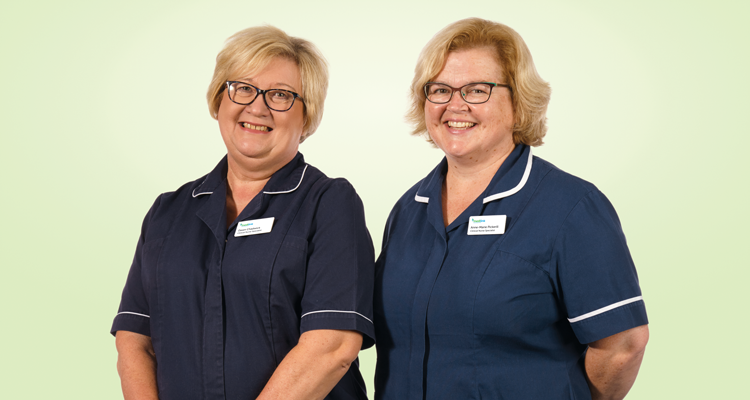 Not all heroes wear capes
In episode four of our podcast, we get to listen in to Stoma Care Nurse Specialists, Dawn and Anne-Marie, chatting about the unique and important role of the Stoma Care Nurse and the types of stoma support offered to people throughout their stoma journey.
Qualifying as a stoma nurse…
With years of experience, Dawn and Anne-Marie kindly recollect their personal memories of starting out at a young age within the healthcare sector and how they both went on to qualify and specialise within the ostomy field as Community Stoma Care Nurses. An area of nursing that they have both been working in for over 20 years each, attesting their emphatic dedication to stoma care.
Anne-Marie: "I've been a Stoma Care Nurse for over twenty years now… I feel passionate about Stoma Care, it's a very specialised subject and you have to love it to do it"
More than changing stoma bags…
It can often be assumed that Stoma Care Nurses are there to change stoma bags. In fact, the role is multifaceted and covers various areas of stoma care…not just how to change a stoma appliance. The two nurses share how they are there with the patient throughout their journey from pre-operative care right through to hospital discharge and the care in the community.
The 3 S's: sex, psychology and stomas…
The podcast goes on for us to learn about the support and advice provided to patients; touching on subjects including psychological aspects, sexuality and how stoma nurses can also provide support to patients' loved ones.
Dawn: "a stoma doesn't just affect the patient, it does touch on the whole family and I think our role is quite unique in that way…we will talk to wives, girlfriends, boyfriends, children. Whoever the patient gives consent to talk to"
Always there for you…
The conversation goes to how the two of them often provide hints and tips about getting back into exercise for those in post-surgery recovery phase as well as dietary advice dependent on the operation type …revealing some heart-felt and somewhat amusing stories along the way!
Both Dawn and Anne-Marie bring this insightful episode to a close by reminiscing about some of their patients that they have cared for over the years. Where they have seen people at their worst go on to flourish and lead a confident lifestyle knowing fully well that they will always have their stoma nurse there to support them along the way if ever they need it. A reminder as to why they love their jobs so much and wouldn't change it for the world!
"That's the best thing about our role, isn't it? We may not see someone for years but we are there to support them along the way if they need it"
To truly understand how they make a difference in their role as Stoma Care Nurse, you can listen to the full podcast episode below:

Alternatively, you can listen to this podcast episode by searching for 'Me, My Bag and I' on your preferred podcast platform.
We'd love to know what you think of the podcasts so don't forget to rate it and leave a review on iTunes.