What's new?
Keep an eye on our news feed, where we'll publish everything that's happening in the world of Salts Healthcare.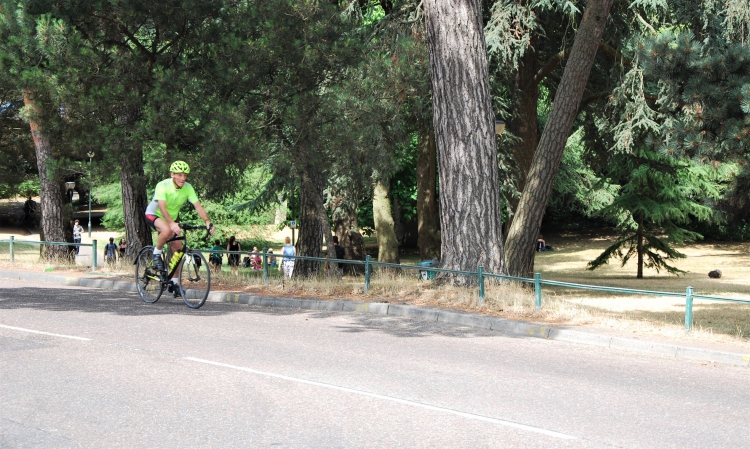 82 year old free-wheeling inspiration raises £4300 for charity
Brian Graham; 82, keen cyclist, recent cancer sufferer and new wearer of Confidence BE® has just, at the young age of 82, cycled from London to Paris in four days to raise money. He raised an amazing £4372.64 for Leeds Cancer Centre in thanks to the Yorkshire institution for saving his life and those of many more. Four days, one ferry crossing and 331 miles in a saddle without a 'bag' problem. Brian cycled right up to underneath the Eiffel Tower in triumph and Salts are proud and are privileged to have sponsored Brian during this amazing cycling challenge…here is his story.
Brian has cycled all his life. His first bike was the 'company vehicle'…as a twelve-year-old he delivered groceries for the local shop. He saved up enough with his wages to buy a Hercules, drop handle 3 speeder on hire purchase (his Mum acted as guarantor!) which felt somewhat different to ride, especially with no wicker basket on the front. Fast forward seventy years – via the Army, marriage to Anne, construction company owner and two children and he still cycles... but in 2016, as Brian puts it, the wheels could have come off.
In 2016 Brian and Anne lived in beautiful North Yorkshire countryside. Yorkshireman Brian said:
"I went on my bike to Grassington, to the Doctors for a blood test. At 3AM the next morning I had a phone call from the staff at the Hospital who had assessed my readings to immediately get up, drink strong tea and eat toast and get to my doctors first thing… I had suspected bowel cancer and it was pretty bad. After that consultation, I was referred to Airedale Hospital where it was confirmed, and I was fast tracked for treatment."
He continued:

"As you can imagine it was all a bit of a blur. I was fit and healthy. I cycled, played tennis and had a good diet but I had this large tumour which was close to the muscle that supports the pelvis that needed to be removed."
Brian started six weeks of a mixture of chemotherapy and radiotherapy to first of all shrink the tumour so it didn't touch his muscles, before waiting another six weeks to see if the tumour had shrunk sufficiently to have the bottom part of his bowel removed and a non-reversable stoma was created. Brian spent three days in Intensive Care and then another three on the ward before leaving for home.
"I don't think I stayed in hospital that long" smiled Brian. "You have to be positive, have faith and have the good fortune to be looked after by a great group of clinicians. I also had an amazing stoma care nurse called Sarah who suggested I use Salts Natural Advance. She was fantastic – helpful, knowledgeable and always there to advise"
Post the trauma of the operation Brian and Anne decided now was the time to move closer to their family who live on the South Coast. They had decided to move beforehand but the operation brought everything forward. After searching in the Bournemouth, Poole and Dorchester area they found a beautiful Dorset village that they now call home. During the search for a new home and whilst staying with their in-laws Brian and Anne attended a Salts Medilink Open Day and saw the new Confidence BE® demonstrated. Brian decided to order some samples…he was a Salts user and thought what was classed as a revolutionary product was worth a try.
Brian said on its performance:
"It's easier to use, the adhesive works well…I feel it's a part of me." When cycling Brian uses a support belt. "I also don't have any problems. I've been cold, hot, sweating and the constant movement hasn't been an issue. I also feel secure because the Velco is stronger."
So why did Brian complete this amazing challenge? He said:
"I was inspired after attending an evening about the new MR (Magnetic Resonance) Simulator for Leeds Cancer Centre. I thought I should help out and as a keen cyclist there was only one thing to do…ride my bike. And if you are going to do something it might as well be a big thing and a challenge. I looked at cycling from Leeds to my new home, but it was dangerous with fast roads (I once rode from Yorkshire to the south and back in a week when I was young). I then came across organised events with planned routes, medics and support. You pay for their services and expertise for your peace of mind and then you raise money for your chosen charity. London to Paris sounded great so I signed up."
When Salts heard of Brian's challenge the company sponsored him and has followed his progress through his training programme and along the 311 mile route. Brian said:
"Day 1 was tough. The hills of the South Downs to Dover, rain and a five hour delay getting onto the ferry was hard. We didn't get to bed until after 1am the following morning. But the weather on Day 2 was fantastic and we saw such beautiful places. Arriving in Paris was emotional and satisfying at the same time. All the training had paid off and I have raised a much bigger amount than I thought I'd ever do."

"And my new Confidence BE® bag worked well…I knew it would. It was horrible and wet in the UK and then the sun warmed our backs through France. Such changes in temperature, sweat and moisture plus on average seven hours in the saddle riding 80 miles every day was pushing my body to the limit, but I didn't even know it was there. I didn't even think about it…I was too busy thinking about what was in front of me. Nobody knew I had a bag, nobody treated me differently…they just knew I wanted to raise money. I was just another person in a big group of cyclists who all had their reasons for attempting this feat."
Fifty people from across the World took part including Australians, Americans, people from various South American countries and Europe. Brian said: "It really was a global event. My nickname was 'grandad', but many called me simply 'legend'.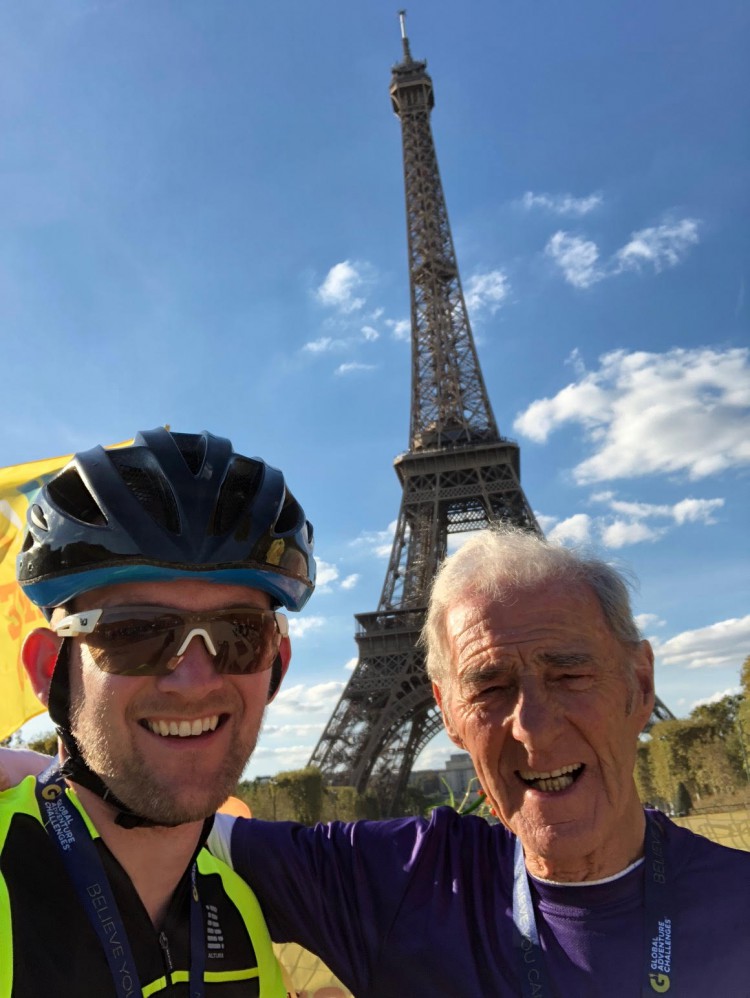 We couldn't agree more Brian. Everyone at Salts is humbled to hear of your fund-raising and proud to have sponsored you. You can still donate. Visit: www.justgiving.com/fundraising/brian-graham3
Here are the facts and figures about Brian's cycle ride…at 82 years of age with a stoma:
Brian's age: 82
Journey: London to Paris via Dover…311 miles/500km
Period: 4 days to complete
Average speed required to finish on time: 10mph/16kph
Stage – average distance: 77.75 miles/125.13km
Total assent: 15,408 feet/4696 metres