What's new?
Keep an eye on our news feed, where we'll publish everything that's happening in the world of Salts Healthcare.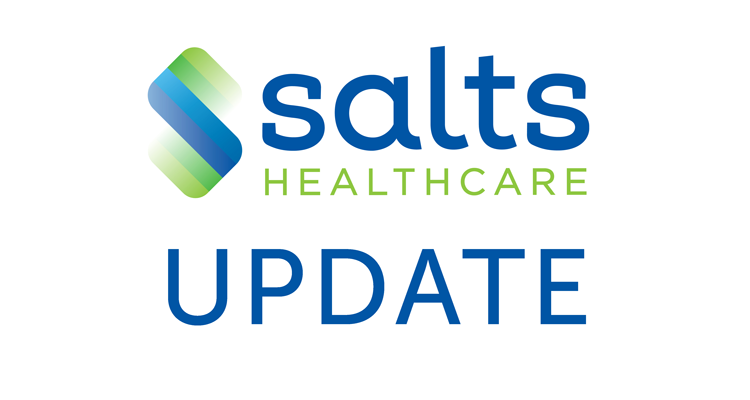 Important Information - Coronavirus (COVID-19)
We understand that many of our customers may be worried about the current Coronavirus (COVID -19) situation and may have concerns with regards to whether they can expect to receive their prescription products as normal.
Salts Healthcare is continually monitoring the Coronavirus (COVID-19) situation. The safety and wellbeing of our employees, customers and partners has always been and will continue to be our top priority.
We are following the guidance recommended by health care authorities and taking various steps to ensure Salts Healthcare can continue to operate and ensure customers receive orders.
Our ostomy products are manufactured in the UK and whilst we source materials globally, we do not have any concerns about the continued supply of our products and do not foresee any impact on our ability to manufacture these products.
We would therefore advise all of our customers to continue placing your prescription requests as normal and avoid stockpiling.
Some of the precautionary measures we have put in place so far are:
- Established a cross-functional team which is actively monitoring the situation to ensure we can continue to manufacture and supply our products as normal
- Continued monitoring and support of the health and wellbeing of Salts Healthcare employees and customers
- Ceased all overseas business travel
- Advised against holding any unnecessary face-to-face meetings (internally and externally)
- Employees who can work from home, are now working from home until further notice
- Introduced even more stringent and rigorous cleaning and hygiene procedures at all sites
- Our Sales Team has ceased visits to Stoma care Nurse Specialists within hospitals
- Displayed official NHS posters at all sites informing employees of good hand hygiene
- Introduced temperature monitoring of all staff entering our sites – anyone above the advised 37.8 must leave the site
- In-house hand sanitiser has been developed by our Principle Skin Health Research Scientist, which has been distributed between our Head Offices
- We are currently working on producing a hand sanitising gel that can be packaged and distributed to our nurse team, remote workers and branches
- Removed the use of clocking in scanners and hand dryers, as well as leaving some internal doors open to avoid unnecessary spread of any germs on surfaces or in the air
- Increased frequency with which cleaning rotas take place, paying particular attention to the surfaces that are touched most regularly
- Additional Hand sanitisers added to the entrances and exits of our canteens
- Salts Healthcare are being extra cautious in terms of any staff showing any signs of illness, isolating where necessary Implemented a 15 minute gap between shift changeovers (30 minutes for any vulnerable staff) at Distribution offices to ensure minimal contact between employees, as well as expanding the break area to encourage social distancing
We would like to reassure you that we are continuing to closely monitor the situation as it develops to keep our workforce and customers safe, and will keep you informed with any further updates.
If you have further queries or need to contact us, please call our Customer Advisory Team on 0800 028 2144.
*Last updated on 30th March 2020.