What's new?
Keep an eye on our news feed, where we'll publish everything that's happening in the world of Salts Healthcare.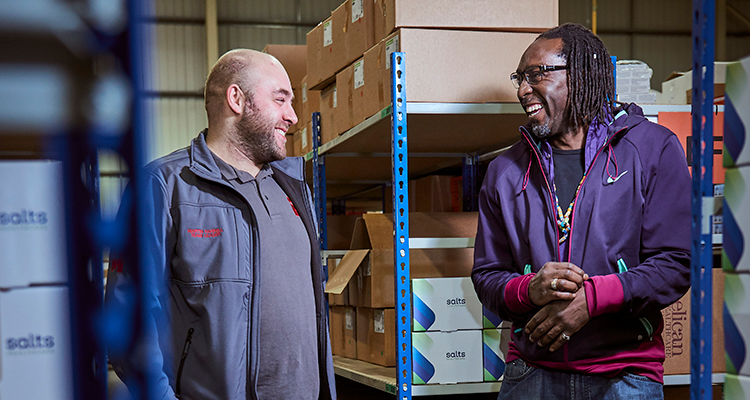 Transforming Lives: Paul and Martin
In our latest series, we're sharing patients meeting with staff from Salts Healthcare to discuss Confidence BE®. We now share our next story with you.
Market Research was instrumental in the development of Confidence BE®. Questions asked at patient focus groups helped us to find out their views on certain aspects of the bag. Colour options was a significant area of discussion – the results of which led us to launch Confidence BE® in 3 different colours; black, white and stone.
"I've been crying out for different colours for years. I've always wanted something to match my skin tone."
That's where Paul comes in: a Confidence BE® user who has newfound freedom since the launch of the black Confidence BE® bag. Paul met with Packing Team Leader, Martin Farrell at our distribution centre, for a chat about how their lives are entwined. They'd never met each other, but Martin is a member of the team at Salts Healthcare who makes sure Paul has the stoma bags and additional products he needs, when he needs them.
Martin and Paul immediately struck up a rapport, chatting about all sorts of things, including their love of sports and their respective hobbies. They also spoke about Confidence BE®, discovering how the work of every individual at Salts connects with every single patient.
"Staff should meet with more patients, and realise…behind every box is a personality."
Martin then wanted to find out more about Paul and his journey. For Paul, having a stoma was a scary prospect. He felt ashamed of his bag – but that all changed with Confidence BE®. Paul finds his stoma bag comfortable to wear, is impressed with the filter and doesn't find them to be noisy like previous bags he's tried. But, the offering of three different colours is what Paul really loves. Paul had been crying out for bags in different colours for years. He now sees the black bag as a way for him to match this with his skin tone, giving him the confidence he previously lacked.
"I can now wear what I want and I'm proud of what I wear. I'm proud of the design. I like the simplicity of the bag, the colour, it gives me confidence."
Paul and Martin then spoke more about staff and patients understanding just how connected they are. From a patient's perspective, Paul understands how important receiving his deliveries is, from the messages, emails and phone calls, right up to the delivery arriving. For Martin, it's nice to be able to see the different cogs in the Company which all work together to achieve one outcome, and to see how his team contribute to patient's quality of life.
To see more of Martin and Paul's chat, please follow the link: Watch YouTube video.
To celebrate the launch of Confidence BE®, we're sharing a series of stories like Martin and Paul's, where employees from Salts Healthcare met with patients to talk about their involvement in Confidence BE®. We make products, but we never forget our devices are for real people. Read more stories like this here.