What's new?
Keep an eye on our news feed, where we'll publish everything that's happening in the world of Salts Healthcare.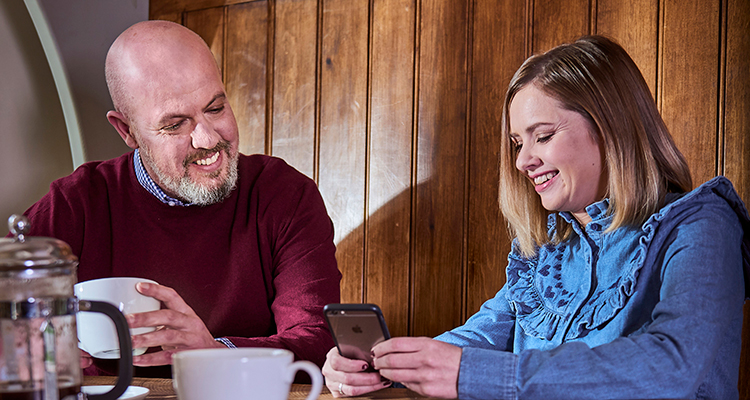 Transforming Lives: Iain and Andrea
In our latest series, we're sharing patients meeting with staff from Salts Healthcare to discuss Confidence BE®. We now share our next story with you.
For the first time, social media played a big part in communicating with people about Confidence BE®. To coincide with the product's availability, there was an overwhelming response on social media. Ostomy groups promoted Confidence BE®, people talked about it in forums, there were reviews from bloggers each creating multiple requests, and it was a popular platform for people to first find out about the launch.
"I saw the black bags on Twitter ...within days I had tried samples and placed them on my prescription. I just love them!"
Meet Andrea Robson, who first found out about Confidence BE® on Twitter. Andrea met with Iain Powner, Head of Research, Quality and Regulatory Affairs who was heavily involved with the development of Confidence BE®. They chatted over a coffee about the stoma bags.
Andrea kicked off the conversation by sharing her story with Iain. Andrea had Ulcerative Colitis at the early age of six and postponed surgery at 18 years old to pursue a dance career. Sadly, in 2016, Andrea was diagnosed with bowel cancer and had to have her large colon removed, leaving her with an ileostomy. But, Andrea's future is looking bright. She's due to return to work and with Confidence BE®, she's not afraid to get on with her life.
Having listened to Andrea's story, Iain spoke about his role at Salts and his part in the creation of Confidence BE®. Iain explained how they approached Confidence BE®, wanting to find out what it's like at every moment for an ostomist – from day to night, to allow us to innovate. For Iain, the development of bags is even more pertinent as his mother has an ileostomy. Working at Salts Healthcare has allowed Iain to pay attention to how his mother copes, and is even more motivation for him to produce quality products.
"My job is to manage research, try to appreciate customers' needs, create products and help customers on a journey. Asking and hopefully answering questions."
Andrea then wanted to find out more about the process of making Confidence BE®, and how Salts succeeded in creating a bag that didn't look like a medical device. For Iain, this was great feedback. Iain explained how you can never be sure of getting it right or appealing to everyone, but you just have to see what's possible.
"We try to put ourselves in your shoes ...things like matching colours with underwear."
Andrea explained how the black bag is the one she wanted to try first when she saw them on Twitter. But, it's not just the colour that Andrea likes. It's the texture, the fact that they're lightweight, nice to touch, comfortable to wear and the wafer fits around your tummy easily – "I love them."
To see more of Iain and Andrea's chat, please follow the link: www.youtube.com/watch?v=fwFpQjVqCCg&t=6s.
To celebrate the launch of Confidence BE®, we're sharing a series of stories like Iain and Andrea's, where employees from Salts Healthcare met with patients to talk about their involvement in Confidence BE®. We make products, but we never forget our devices are for real people. Read more stories like this here.