What's new?
Keep an eye on our news feed, where we'll publish everything that's happening in the world of Salts Healthcare.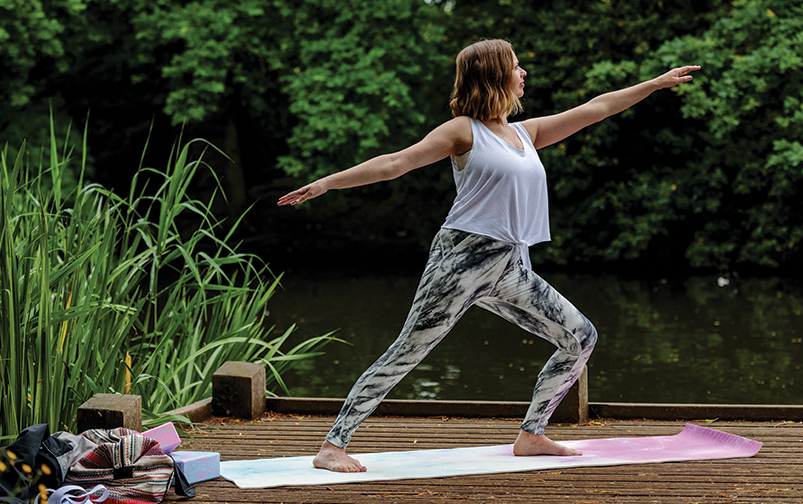 Andrea Robson – Starting to exercise with confidence
After undergoing surgery for bowel cancer, Andrea admits that she initially lost confidence with her body. Finding the perfect stoma bag has helped her start exercising again…
Diagnosed with Ulcerative Colitis at the age of just six, Andrea had spent most of her life on medication, relying on steroids and infliximab infusions to keep her condition under control. She was offered surgery at the age of 18, but turned it down to pursue a dance career. Then, in 2016, she started to deteriorate and ended up being admitted to hospital.
"I just thought it was a bad flare-up of Ulcerative Colitis but, after various tests, a large tumour was found. A Macmillan Nurse & Stoma Nurse came to meet me in the ward to talk a little about what might happen. I met with my surgeon a week later where I was told it would definitely be my entire large colon removed, resulting in a stoma. Truthfully, I was more nervous about having cancer than the surgery", she recalls.
In January 2017, 37-year-old Andrea had sub-total colectomy & end ileostomy surgery, followed by a course of chemotherapy. Her Mum stayed with her for 2 weeks following the discharge and she received lots of support from her friends and colleagues.
Before her surgery, Andrea was anxious about wearing a bag and what people would think. She used the bags supplied at hospital and hadn't thought about changing them, until she spotted Confidence BE® on Twitter.
"I remember seeing a photograph of the bags with the three different colours and I thought, "Ooh, what's that?". It was the black one that caught my eye. I do wear quite a lot of black and sometimes it's nice to put something different on".
Following her treatment, Andrea started yoga and other exercise classes, such as Barre Workouts, to try to build up her strength. She recalls feeling self-conscious with her previous bag. "In one class a lady would always stare at me if my bag was poking out and you could see she was wondering what it was. This one fits under my workout leggings quite nicely, it blends in and it's not as visible".
As well as a clever filter system that reduces ballooning, pancaking and odour, Confidence BE® features a special fabric cover which is low-rustle and feels very soft against the skin – perfect for when you're trying to be discreet in a quiet exercise class.
"The fabric is soft and silky and when you have clothes over the top it doesn't rustle. With other bags, you can hear it. The bag also feels a little bit smaller and more lightweight than some of the others", she adds.
Andrea admits that, initially, she did lose a little bit of confidence with her body and found it quite difficult adjusting to life with a stoma.
"It was quite difficult in the beginning, learning how to look after it and change my bag. I'd have to psyche myself up to do it. Now I can do it with my eyes closed. I'm pretty confident now and don't mind flashing my bag", she says.
Andrea now enjoys doing a yoga class every week and two further sessions at home. She has made sure the instructor is aware of her bag in case she has to suddenly run out during a session or if her stoma makes a noise, which sometimes happens. But so far, she hasn't experienced any leaks or issues with Confidence BE®.
An Executive PA for an advertising agency, Andrea has been off work for a year and half but plans to return to work soon, where she's looking forward to matching the other colours with her work wear.
"I've tried all the different colours. The skin colour one is my everyday look. I think the white one will be good in summer and the black is great for going out. It will be nice to have the different colours at work. It won't put people off if it pops out".
If you'd like to try Confidence BE® for yourself, order a FREE sample today and let us know how you get on by saying hello@salts.co.uk.